With increasing frequency, I have heard a number of supply chain professionals proclaim 'demand forecasting is dead.' They claim that "the proliferation of products and distribution channels coupled with the accelerated pace of the supply chain makes it too difficult to create accurate forecasts. If only we could get closer to true end-customer demand the company could ship exactly what is needed, where and when." 


It's the old Push – Pull argument. Proponents of doing away with demand forecasting assert that by sensing and reacting to customer demand at the point of purchase there is no longer a need for projecting demand based on history. As Mark Twain said after an American paper falsely printed his obituary, "The reports of my death are greatly exaggerated." And so it is with demand forecasting.
Canitz Says...

Large improvements in demand forecast accuracy are achievable by deploying solutions that continuously learn and adapt to keep pace with ever-changing market demand.

What do you say?

Click here to send us your comments
I agree that some companies can operate leaner if they move to a pull distribution strategy based on actual customer demand. However, what is often overlooked is that moving to a pull strategy does not eliminate the need for a demand forecast.  Most likely the company will still need to forecast the demand for raw materials, purchased components, and/or sub-assemblies to be able to meet customer demand.  In most cases the lead time for the materials to build a finished product is longer than the lead time a customer is willing to wait for that finished product.


What's really driving supply chain professionals to throw up their hands and proclaim the worthlessness of demand forecasting is their frustration with low levels of forecast accuracy. Given that most companies will have to forecast customer demand at some point in their supply chain, i.e., finished goods, sub-assemblies, raw materials, etc., it makes sense to put the frustration behind us and focus on how to improve demand forecasting capabilities.


Maturity curves have become a popular way to visually benchmark your company's state of development in a particular business capability. By comparing your current capabilities against typical capabilities at a certain maturity level you can develop a game plan to move from one level to the next. This post introduces the Demand Forecasting Maturity Curve.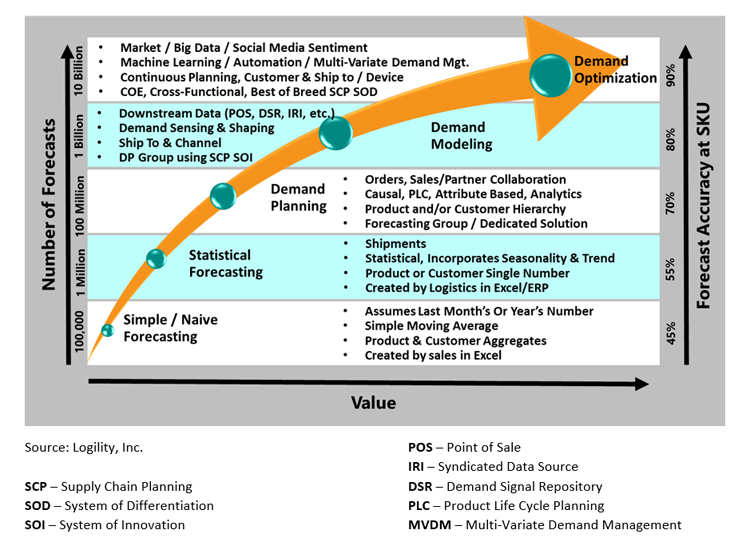 The Demand Forecasting Maturity Curve starts at level (1) Naïve Forecasting, the lowest level of maturity, and ends at level (5) Demand Optimization, the highest level of maturity. Today even after 40 years of availability of modern demand planning solutions most companies are at level (3) Demand Planning and below. With advancement in computing power and corresponding development of more advanced solution capabilities with embedded artificial intelligence (AI) the ability to reach a level (4) Demand Modeling or even level (5) Demand Optimization maturity has never been more attainable.


As your organization climbs the Demand Forecasting Maturity Curve value increases through improvements in forecast accuracy, decreases in data latency, less aggregated forecasts and new insights driven by segmentation, machine learning, and new demand data sources. Each maturity level builds on the previous through the improvement of planner skills, enhancements to process and organizational structure, and the enablement of new capabilities through advanced solutions.


The information provided at each level in the Demand Forecasting Maturity Curve describes the typical maturity at that level across four dimensions. From the bottom up these dimensions are:


Organizational structure,
Level at which forecasts are created,
Forecast techniques used,
Data utilized to create forecast.


It is possible to be at different levels of maturity across these four dimensions. For instance, you could be at the 'Demand Planning' level from an organization maturity standpoint having a dedicated group and solution but still be at a 'Statistical Planning' maturity level when it comes to the level at which forecasts are created.


Although most companies still struggle with demand forecasting the future is bright. Today, demand forecasting can be conducted nearly 'lights-out' through the application of new artificial intelligence enabled solutions. Large improvements in demand forecast accuracy are achievable by deploying solutions that continuously learn and adapt to keep pace with ever-changing market demand.


More accurate demand forecasting is one of the few 'power-ups' that can drive both top line revenue and bottom line profitability. An improvement in forecast accuracy—even just one percent—can have a ripple effect across the business including significantly reducing inventory buffers, obsolete products, expedited shipments, distribution center space, and non-value added work. In turn, these improvements can translate into higher customer fill rates, customer satisfaction and ultimately more revenue with higher margins.


With this in mind, most companies are on a never-ending quest to improve their ability to predict customer demand. I hope that this Demand Forecasting Maturity Curve will renew your conversation on how you can improve your demand forecasting capabilities.


For additional reading:

"Practical Tips to Improve Demand Planning",
"More Practical Tips to Improve Demand Planning", and
"2020 Planning Tip: Eight Methods to Improve Forecast Accuracy"
About the Author


Henry Canitz is the Product Marketing & Business Development Director at Logility. To read more of Henry's insights visit www.logility.com/blog.
Any reaction to this Expert Insight column? Send below.
Your Comments/Feedback