SCDigest editorial staff
What is Included in Logistics Cost Measures?
100% of respondents included warehouse/distribution costs and 98% outbound transportation costs in calculating costs of logistics (a handful said customers paid for all outbound freight).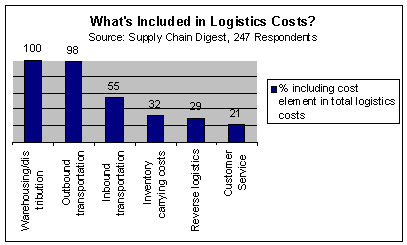 55% included inbound transportation costs, while 45% did not. 29% included reverse logistics/returns costs, and perhaps surprisingly , only 32% of respondents included inventory carrying costs as part of total logistics costs. 21% included customer service costs, which are generally included when various pundits look at total logistics costs. There was a slight vertical orientation here, with customer service more likely to be included in the consumer packaged goods, food/beverage, 3PL and chemical segments, and uncommon in retail (as makes sense), wholesale distribution, and tech, to cite a few.
Among manufacturers, about one-third said they included "manufacturing logistics costs," but we did not well define the term. It was meant to include costs into and out of production, as well as material storage and handling costs in the plant. What makes this aspect hard is that it's hard to know who really is a manufacturer these days – a lot of companies which used to be are now sourcing overseas. But several respondents in comments wanted to make clear that plant transfer costs were included in logistics costs.
Other costs cited not in our specific list (just a handful at most each) included: import/export costs, freight audit expense, and packaging costs.
Other sections of the Logistics Cost Study:
What's Included in Logistics Costs Measures?
Logistics Costs Up or Down in 2005?
Performance by Industry - General
Apparel Industry Logistics Costs
Automotive Industry Logistics Costs
Chemicals Industry Logistics Costs
Consumer Durables Industry Logistics Costs
Consumer Packaged Goods Industry Logistics Costs
Consumer Goods Other Industry Logistics Costs
Food/Beverage Industry Logistics Costs
Furniture/Home Furnishings Industry Logistics Costs
High Tech Industry Logistics Costs
Paper/Building Products Industry Logistics Costs
Pharmaceutical/Medical Products Industry Logistics Costs
Retail Industry Logistics Costs
Wholesale Distribution Industry Logistics Costs
Other Industry Logistics Costs
Level of Cost Increase/Decrease
Do you have additional comments on the our logistics costs study? Let us know your thoughts.