SCDigest editorial staff
Supply Chain Digest recently conducted a survey of its readers on logistics costs. This was a self-selected poll – opportunities to take the brief survey were posted on several issues of the Supply Chain Digest newsletter and the web site.
A .pfd download of the full report is available: Logistics Costs Study 2006. See this page and links below to view specific portions or pages of the report in html.
In total, 247 usable responses were obtained, from a wide range of industries.
Highlights of the survey results include the following:
Primary Method of Measuring Logistics Costs
40% of respondents said their primary measure of logistics costs is as a percent of sales. This compares with 25% who said the primary measure was in absolute cost, 16% who said it was cost by some unit of weight (hundred weight, kilograms, etc.), 11% who said it was cost per some unit measure (case, unit), and 8% who said they used "activity-based costing" as the primary measure.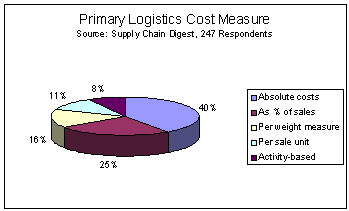 As one reader commented: "The mistake of using % of sales as one's only meaningful metric will become very obvious during the deflationary portion of the cycle. The escalation of absolute costs can hide in the euphoria of top line growth only to surface as a huge swing in % increase when the market and the associated top line falls, even if the absolute cost remains relatively stable. However; all too often as budget conscious managers we are willing to take the win and the associated credit without acknowledging the windfall aspects of the cycle."
About 25% of respondents indicated through comments that in practice they look at logistics costs multiple ways – we simply asked for the primary measure. Another respondent commented: "We use several of these measures, but exclude items that are out of our control, such as the cost of benefits." We suspect most companies look at this from several directions.
Other sections of the Logistics Cost Study:
What's Included in Logistics Costs Measures?
Logistics Costs Up or Down in 2005?
Performance by Industry - General
Apparel Industry Logistics Costs
Automotive Industry Logistics Costs
Chemicals Industry Logistics Costs
Consumer Durables Industry Logistics Costs
Consumer Packaged Goods Industry Logistics Costs
Consumer Goods Other Industry Logistics Costs
Food/Beverage Industry Logistics Costs
Furniture/Home Furnishings Industry Logistics Costs
High Tech Industry Logistics Costs
Paper/Building Products Industry Logistics Costs
Pharmaceutical/Medical Products Industry Logistics Costs
Retail Industry Logistics Costs
Wholesale Distribution Industry Logistics Costs
Other Industry Logistics Costs
Level of Cost Increase/Decrease
Do you have additional comments on the our logistics costs study? Let us know your thoughts.